Dentigerous (Follicular) Cysts are the second most commonly occurring odontogenic cysts after periapical cyst and the most common developmental cysts of the jaws. By definition, a dentigerous cyst is attached to the tooth cervix (enamel-cementum junction) and encloses the crown of the unerupted tooth.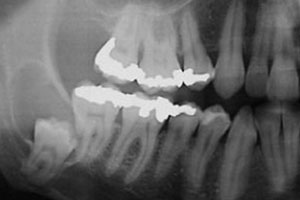 Photograph1: Dentigerous cyst surrounding the crown of right mandibular third molar and going upward in ascending ramus. [1]
Etiology and Pathogenesis of Dentigerous Cyst
A dentigerous cyst originates from the enamel organ remnant or reduced enamel epithelium. The expansion of the dentigerous cyst is related to epithelial proliferation, release of bone-resorbing factors, and an increase in cyst fluid osmolality.
Clinical Features of Dentigerous Cyst
Dentigerous cysts are most commonly seen associated with third molars and maxillary Canines. The peak incidence of dentigerous cysts occurs between twenty to 40 years. Males have more predilection with a ratio of l.6 to 1.
Dentigerous cysts are generally symptomless. The delayed eruption is the most common indication of dentigerous cyst formation. This cyst can achieve significant size, occasionally causes cortical bone expansion but rarely reaches a size that predisposes the patient to a pathologic fracture.
Radiographically, a dentigerous cyst manifests as a well-defined, unilocular or sometimes multilocular radiolucency with corticated margins in attached with the crown of an unerupted tooth. The concerned unerupted tooth is mostly displaced. In the mandible the related radiolucency may extend superiorly from the third molar site into the ramus or anteriorly and inferiorly along the body of the mandible. In maxillary dentigerous cysts in the canine region, extension into the maxillary sinus or to the orbital floor may be seen.
Histopathology.
The cyst is lined by stratified squamous epithelium. In a noninflamed dentigerous cyst the epithelial lining is nonkeratinized. It remains approximately four to six cell layers thick. Sometimes, numerous mucous cells, ciliated cells, and rarely, sebaceous cells may be found in the lining of the epithelium. The epithelium-connective tissue junction is generally flat. But when secondary inflammation established, epithelial hyperplasia may be noted.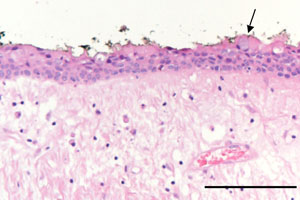 Photomicrography 2: showed a thin non-keratinized epithelial lining composed of 2–3 layers of cuboidal epithelial cells and a fibrous connective-tissue wall loosely arranged. The arrow indicates an occasional mucous cell (bar = 0.2 mm) [1]
Differential diagnosis
When it is small, it is difficult to differentiate a dentigerous cyst from a large but normal dental follicle. When larger, the differential is essential that of lytic lesions of the jaw and includes:
periapical cyst
aneurysmal bone cyst
ameloblastoma
odontogenic keratocyst
fibrous dysplasia
Stafne cyst
Treatment
Removal of the associated tooth and enucleation of the soft tissue part is definitive therapy in most cases. When cysts affect significant portions of the mandible, exteriorization or marsupialization of the cyst is done to allow for decompression and subsequent shrinkage of the lesion followed by surgical enucleation.
Ref:
https://jcda.ca/article/c59